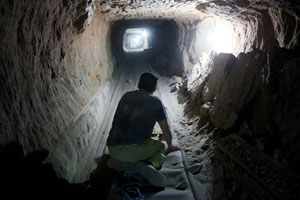 By Joseph Cappa, D.B.A., M.B.A.
The second installment of the CTU Distinguished Lecturer Series featured Chuck E. Cheese founder Gene Landrum, Ph.D., last month. This short blog series recaps inspiring stories that the well-known author and educator shared during his guest lecture. In this post, uncover why Dr. Landrum believes hitting bottom doesn't necessarily mean game over.
As I mentioned in my previous post, Dr. Gene Landrum's guest lecture offered notable nuggets on various components in the business and entrepreneurial industry. On top of often telling attendees to disregard naysayers, Dr. Landrum showcased his optimistic, "the glass is half full" view on life. In fact, Dr. Landrum shared the following tidbits on pushing beyond any restraints you face:
Successful entrepreneurs must begin at the bottom.
The very first real success for Walt (Disney) was called Oswald the Rabbit, a cartoon character. And a lot of people don't know about that because… some nefarious New York distributor stole it. (Disney) didn't read the fine print. Right brain people… we don't read a lot of the fine print. We go to the essence of the concept. This guy stole the thing, and actually Walt had a nervous breakdown in New York City. And on the train back to California, he sat and he drew Mickey. That's the genesis of Mickey Mouse.
Show your oak.
I was getting out of school. I was in my 20s. I had been very successful. I had been the top sales guy back in the main frame business, and I was up for promotion. Well the successful, nice offices in the country were all taken, and nobody was leaving. The only thing that was available was in West Virginia. That was the coal mining country. It was the only thing, so I said I'll take it. I wanted to be a manager. I wanted to learn how to manage something with a lot of people. My friends called me and said, "Gene, are you drinking heavily? What are you doing?"

This company I worked at, we kept quotas. And, in 30 years, it had never made quota ever. It was a real challenge for me, and I went in there, and the very first year, I made quota. The second year, I was the top office of that size in the United States. People in the home office thought I was a boy wonder or something, and that's how I ended up in Silicon Valley. They took me right to SV and made me product manager of $100 million operation. Why? Because they looked at me and said, "How could this guy do this? "If I'd gone to a successful office and done OK, guess what – so what! I went to the bottom of the bottom and did well. So sometimes, when you do that, you can show your oak, and it will go with you.
Get around the obstacles.
They can be human obstacles. They can be physical obstacles. They can be a whole lot of things, and you have to circumvent that. Do not give up. Keep going, and keep trying. Keep pushing it. Refuse to give up. And you must do that because – guess what – are you gonna get a lot of obstacles? Absolutely. It's highly, highly predictable. Does stuff happen? Yea. Deal with it.
What obstacles have you overcome recently, and how?