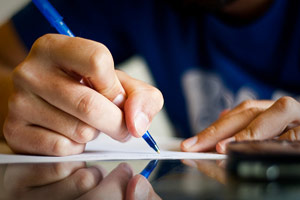 Deciding to pursue your master's degree is a big step toward achieving your educational goals. But how do you know whether you're making the right decision? Look over these five questions to ask before pursuing a Master's degree.
Can I afford it? Your decision to return to school hinges on your ability to pay for it. Do you have enough money saved to cover tuition? Could you work around your class schedule? If you need additional funding, you could look into loans, self-payment plans, or scholarships*. If you're currently employed, you could find out whether your company offers tuition reimbursement for advancing your education.
Can I handle the time commitment? Program lengths can vary. The average master's degree takes around 3 years. Consider whether you can work while you go to school, and decide ahead of time whether you can handle a full-time or part-time class schedule. Students who enter a program without being aware of the time it requires are less likely to complete their degree.
Have I done enough research? You need to think grad school over carefully to make the right decision. You also need to do plenty of research on your plans, the pros and cons of getting your Master's, the programs that interest you, and more. The better you plan your education, the better your chances could be for reaching your goal. If you have any questions about starting your Master's, make sure you find answers.
Is graduate school worth it? Finally, before you commit to a decision, ask yourself if grad school is what you really want. Pursue your Master's if you're ready to seek advanced professional opportunities, just don't go back to school for the wrong reasons. For example, don't go just because you're unemployed and "have nothing better to do." It's also a mistake to get your master's without knowing whether you're interested in the field. You probably won't get a lot out of your education if you're not fully committed to it.
This article is presented by Colorado Technical University. Contact us today for information about how you could learn knowledge and relevant skills with an industry-current degree program from Colorado Technical University.
*University grants or scholarships are based on established criteria as published in the University's catalog and are awarded after verification that the conditions of eligibility have been met.
Financial Aid is available to those who qualify. Colorado Technical University cannot guarantee employment or salary. Colorado Technical University cannot guarantee employment or salary. Not all programs are available to residents of all states. Find disclosures on graduation rates, student financial obligations and more at www.coloradotech.edu/disclosures. All trademarks are property of their respective owners.