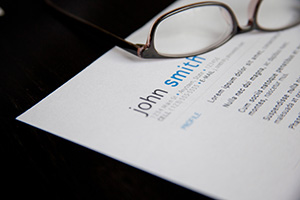 Creating a quality resume is hard work. Many of us spend countless hours tweaking and puzzling over every detail imaginable, and with good reason. On a resume, details matter. In fact, one small error can disqualify you from consideration.
Follow these tips to help your resume stand out:
Keep it to one page – Succinct is the way to go, but quality is key. Two pages is only acceptable when you are applying for a job at the executive level and when there is no way to crunch all your relevant achievements, experience and/or qualifications into one page.
Streamline work history – The real estate on the page is too valuable to get cluttered with information that isn't directly relatable to the specific job you're applying for. If it's not serving a purpose, take it off.
Don't include references – If/when employers ask for your references, be sure to have a reference sheet handy. References do not belong on the resume. You don't need to state that your references are "available upon request" either because employers will assume you can provide them.
Don't include test scores – Although your SAT score may seem like an obvious selling point, it doesn't belong on your resume. Worst case scenario: it looks pretentious.
Don't include clubs/organizations – Unless you were the leader or president, don't include clubs. Leadership roles display organization, drive and passion. Otherwise, including clubs just adds clutter to your resume.
This article is presented by Colorado Technical University. Contact us today if you're interested in developing knowledge and industry-relevant skills with an industry-current degree program from Colorado Technical University.