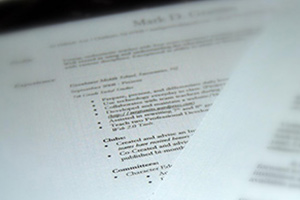 Employers sort through piles of resumes (often electronically). Many resumes can either go unnoticed because of dull formatting or lack of obvious achievements, or they can end up in the recycling bin because of easily avoidable mistakes or inappropriate information.
Want to make a good first impression? Follow these tips to get your resume noticed:
Get rid of personal information – Things like age, ethnicity, social security number, sex, religion and marital status don't have any relevance to your qualifications for the job, nor are they anyone's business. Also, many employers might get rid of your resume out of fear of being accused of discrimination.
Order sections appropriately – Put the various sections of your resume in the order that demonstrates your strongest to weakest categories. For instance, if your education history is stronger than your work history, put that first. You want your best self at the top of the list.
Show your strongest GPA – Isn't there only one? Not exactly. You can choose to show your cumulative GPA, your major GPA or your GPA that reflects classes within the same core subject.
Don't date yourself with punctuation – Certain punctuation can make the text hard to read (underlining) or date them back to the stone age (asterisks or tildes). Instead of underlining, try italicizing, and instead of asterisks or tildes, try bullets. This should help your resume look cleaner and more up to date.
This article is presented by Colorado Technical University. Contact us today if you're interested in developing knowledge and industry-relevant skills with an industry-current degree program from Colorado Technical University.