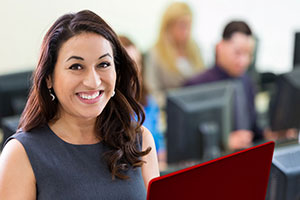 Your first job in IT is an exciting opportunity, especially if you've been thinking about a job in information technology for a long time. If you're like most people, you'll do everything possible to prepare for your new job, from learning more about the company's profile to planning your wardrobe and reviewing notes on computer programming. Entering a new profession or organization can be a bit scary at times, but with all your efforts to plan ahead, your first IT job may still offer a few surprises.
Here are a few things you can look forward to:
Growth. A first job is likely to be entry level. IT jobs can offer space for professional growth when you show your ingenuity and dedication.
Respect. IT professions are well respected. Once you get into the industry, you can demonstrate your proficiency in your work and begin to build a solid foundation for your future.
Change. Careers in the industry are fast-paced because of rapid advancements in technology. Be prepared to adapt to innovations quickly.
Challenge. Learning doesn't stop just because you've finished school. Your first job will also require commitment, focus and on-the-job practice.
Options. Many people change their jobs several times throughout their career. Your first job as an IT professional allows you to gain experience and skills while determining which areas of specialization really interest you.
Potential. Your first job after getting your IT degree may be entry-level, but with the right opportunity there could be room for career growth.
Motivation. The job may motivate you to work harder as you begin to envision your future self following the paths of your professional colleagues.
Reassurance. The job may reassure you that you're on the right career track. Finding a career path can be difficult, and you may have been unsure whether careers in the IT industry were right for you.
Networking. Networking doesn't stop once you graduate from your program. Building professional contacts is a career-long process that can keep your options open and help you advance in the field. Keep building your network at conferences and meetings as well as online through professional networking sites.
Friends. Any time you meet people, you can try to make friends. Keep an open mind and don't rule out the prospect of meeting a few colleagues that may grow into close personal friends.
Your first job in IT is an opportunity to apply the skills and knowledge that you've developed during previous jobs or education. You can learn a lot about yourself and the field, and you can prepare better if you have a few ideas about what to expect when you walk into work on your first day. Above all, never stop learning.
Take the opportunity to leverage your education. Pull out your class notes and textbooks. Re-read relevant articles and journals. Subscribe to the magazines and e-newsletters suggested by your professors. Take additional courses and training. By capitalizing on all you have learned – and applying it in your current position – you benefit from your past efforts and your current success. Be proud of your education – while committing yourself to lifelong learning.