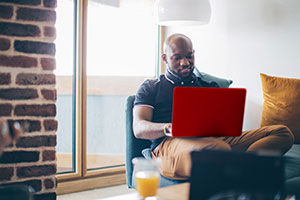 If you're an active duty servicemember who's been thinking of pursuing a college degree, why wait? With the growing availability of online degree programs, you can take courses whether you're stationed at Bagram or on board an aircraft carrier. Even better, many online universities are aware that they're uniquely suited to meet the needs of military personnel, and make the effort to provide you (or eligible family members) with extra support while you balance your course load with your deployment orders. Whether you are looking for an associate, bachelor, or even a master's degree, here are a few good reasons to enroll while you're enlisted.
Prepare For Your Return To Civilian Life
If you're not planning to make a lifelong career of the military, pursuing an online degree while deployed can help you get a head start on preparing to return to civilian life. Completing courses—or even your entire degree—will reduce the amount of time you spend studying on your return and increase the amount of time you spend with loved ones. Successfully completing a degree or certificate could also help you prepare to start your job search once you've come home.
Flexible Study Times
Online degree programs require you to read and complete homework assignments, just like a normal campus-based class, and they require you to turn in work on deadlines. What they don't require is that you show up and sit in a seat to be lectured at every Monday, Wednesday, and Friday at 9:30. A well-designed online degree program will allow you to take in lectures at your leisure. Whether you view them in a computer lab or listen to them as podcasts on your iPod®, you will have flexibility when it comes to scheduling your study sessions. And in case you get distracted, your lectures can be played back.
You Could Gain Military Promotion Points
Earning college credit while you're enlisted can help you advance your military career. The Army and Navy both offer military promotion points for civilian education completion. For those in the Army, you should be able to earn 1.5 points per unit completed, up to a maximum of 100 promotion points. If you're in the Navy, you're eligible for 1 point per unit completed, up to a maximum of 75 points. These points apply no matter what degree level you're studying for—associate, bachelor, and master courses all qualify—and there isn't a restriction on major.
Get Credit For Eligible Military Experience
Many online universities will offer you college credit for eligible military experience provided you pass a standardized exam to prove what you know. The College Level Examination Program, administered by the College Board, offers exams mostly in the humanities. The DSST exams are more tailored towards technological subjects. You are even eligible, as a military servicemember, to have the fees associated with these exams waived. Check out https://clep.collegeboard.org/earn-college-credit/military-benefits for information on CLEP for Military Personnel, and http://www.dantes.doded.mil/examinations/earn-college-credit/dsst.html for information about the DSST exams.
Use Military Educational Benefits to Pay For Online College Courses
Finally, your Military Tuition Assistance Benefits and GI Bill benefits can be used towards college degree courses at regionally accredited institutions. Some colleges also participate in additional grant and scholarship programs for military personnel, veterans, and military family members. Find out more at www.gibill.va.gov.
Colorado Technical University is accredited by the Higher Learning Commission and a member of the North Central Association (30 North LaSalle Street, Suite 2400, Chicago, Illinois 60602-2504) www.ncahlc.org.
CTU does not guarantee employment, salary, or performance of graduates.
---
References:
https://www.military.com/finding-a-school/online-option
https://www.thebalancecareers.com/army-military-education-promotion-points-for-e-5-e-6-4054124