Program details are provided lower on the page.
Classes start October 3, 2023 *
*Start dates may vary by program and location.
CTU Alumni Spotlight
Colorado Technical University is proud to celebrate the successes of our alumni. With more than 125,000 degrees awarded since 1965, there are countless stories to be told. Read below to learn more about their professional achievements, contributions to community, demonstrations of leadership, and other unique experiences.
Do you have news that you would like to share about yourself or a fellow graduate? Email your updates to alumni@coloradotech.edu and be sure to include the alumnus name and contact information, the year of graduation (if known), a brief overview of the news, and links to any relevant articles or information.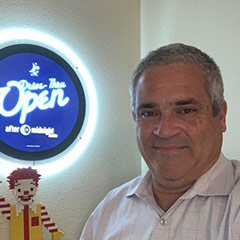 Johnny R.
(MBA, 2020)
"After being out of school for over 25 years, I feared being able to manage work, family, and now school. Thankfully, the online programs at CTU are very flexible and relevant for today's work environment. After asserting my own time management and discipline, the combination helped me earn my Bachelor's degree and now my MBA."
Nicholas T.
(AS, 2021)
"CTU doesn't just teach how to do a better job. They fundamentally change your view on the world. I mentor others professionally and personally. I'm now able to have more meaningful conversations that enrich the lives of my community, family, and friends. This knowledge will stay with me and help me always."
---