Program details are provided lower on the page.
Classes start October 25, 2022!
History of Colorado Technical University
Providing Innovative Learning since 1965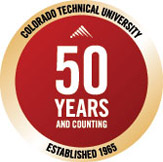 Since its establishment over half a century ago, Colorado Technical University (CTU) has helped thousands of students reach their educational and career goals in dozens of industries. From the beginning CTU has placed a strong focus on providing industry-relevant degree programs to meet the needs of our students for employment and of employers for a well-educated workforce. We continue to innovate in areas such as problem-based and adaptive learning leveraging technology as well as our dedicated faculty and staff.
We have also established ourselves as a leader of hybrid and online learning. In 2009, just nine years after implementing our online degree programs, CTU's Virtual Campus was named "Best of the Best" in the Computerworld Honors program in the Academia and Education Category. In 2013, we received another great honor when our Online MBA program was ranked among the top 10 online MBA programs globally. We are proud that we can offer our students award winning technology that helps them to receive a more flexible and customizable education.