Online Undergraduate Programs
Online Undergraduate Degree Programs Designed to Fit the Way You Live
Earning your undergraduate degree online from Colorado Technical University could make it possible to achieve your academic goals without having to put your entire life on hold. Because our online undergraduate programs are designed to let you take classes whenever it's most convenient for you, finding time to earn your associate or bachelor's degree could be easier than you may think. And thanks to our award-winning, proprietary online tools, you can stay connected to your classes and classmates anywhere you have Internet access as you pursue your online undergraduate degree.
Benefits of Pursuing a CTU Online Undergraduate Degree
CTU's online undergraduate degree programs provide flexibility to work toward your degree when it's most convenient for you
With CTU Mobile and CTU's Virtual Classroom, you have 24/7 access to class assignments, our extensive online library, live chats, discussion boards, grades, and more, whenever and wherever you have an Internet connection
CTU's intellipath® learning tool helps customize your learning experience by recognizing what you already know so that you can focus on something new,1 while CTU Fast Track™ exams could enable you to "test out" of certain classes, leading to cost and time savings2
For those considering a graduate degree in the future, our Master's Advantage™ program makes it possible to substitute two courses in your bachelor's program for two master's level courses
Eligible students may qualify to transfer-in up to 75 percent of the program credits required to complete their online undergraduate degree program3
Military education benefits could help cover costs for online undergraduate courses and textbooks
Current students and alumni have access to helpful career-search resources, networking opportunities, and knowledgeable Student Success Coaches who are available to provide career-search guidance
Our Online Undergraduate Programs
Colorado Technical University offers more than 50 online undergraduate degree programs and concentration options across an array of subject areas and industries. No matter what your interests and goals, there are many opportunities to find the academic path that best fits your life.
Business & Management
Accounting
Colorado Technical University offers online undergraduate degree programs in accounting at the associate and bachelor's levels. Our Associate of Science in Accounting program is designed to help students develop the basic accounting and interpersonal skills relevant to entry-level accounting positions. Core courses cover topics such as introduction to tax, management fundamentals, accounting I–III, computerized accounting, and more. Our Bachelor of Science in Accounting program aims to provide in-depth coverage of the foundational accounting principles and skills needed in more advanced accounting-related roles, covering subjects such as corporate accounting, auditing, taxation, and governmental and not-for-profit accounting. Both online degree programs may also be taken as hybrid or on-campus programs. Notably, CTU's undergraduate accounting curricula was designed in alignment with the educational standards of the American Institute of Certified Public Accountants (AICPA) and integrates the body of knowledge and competencies covered in the Certified Managerial Accounting (CMA) exam.4
Business Administration
We offer online undergraduate degree programs in business administration at the associate and bachelor's levels. In our Associate of Science in Business Administration program, students have the opportunity to acquire foundational general business knowledge of a range of subjects, including human resources, accounting, marketing, and management.. The associate degree curriculum aligns with the first two years of our Bachelor of Science in Business Administration program, which is offered in a general track as well as 14 concentrations. This programmatically accredited BSBA program is designed to help students prepare for seeking entry-level business roles after graduation, with classes providing industry-relevant coverage of international business practices, business ethics, research design, managing organizational change, and more. Electives vary by concentration.
Management
CTU's Associate of Science in Management program offers introductory exposure to management theory and application with the objective of helping students prepare to effectively manage teams and projects after graduation. Financial statement analysis, business law, and contemporary trends in business are among the topics covered, and this curriculum conveniently aligns with the first two years of our Bachelor of Science in Management program, for those students who would like to take their undergraduate learning to the next level. Students in our BSM program have the chance to examine how team collaboration and performance can impact organizational productivity and outcomes—and in doing so, can work to develop their own leadership and group management knowledge and know-how. The concentration in food service management is available as a fully online undergraduate program, while the concentration in cybersecurity management may be taken online or at our Aurora campus, and the general track may be taken online or at our Aurora or Colorado Springs campuses. Core courses include coverage of a number of topics, including but not limited to operations management, small business management and entrepreneurship, international business, human resources management, and international business.
Bachelor of Science in Psychology
Students in our online-only Bachelor of Science in Psychology program are not only exposed to various psychological concepts and theories, but have the opportunity to see how these theories can be applied in business and in life. We offer this program in a general track and two concentrations—consumer behavior and organizational behavior. These online undergraduate courses address an array of subject areas, including health and well-being, group dynamics, theories of personality, biological foundations of behavior, and an introduction to social-science research methods in social science.
Engineering & Computer Science
Bachelor of Science in Computer Science
The Bachelor of Science in Computer Science program at CTU is designed to help students develop their technical expertise and analytical and critical-thinking skills. The program's other objective is to foster a lifelong commitment to learning and professional development, since staying on top of current trends in engineering and the high-tech industries is essential to remaining relevant in this ever-advancing industry. Those pursuing this online undergraduate degree may cover industry-relevant topics, including but not limited to programming languages, computer architecture, circuit analysis, product design, computer networking, and software engineering.
Healthcare
Health Administration Services
CTU offers a fully online Associate of Science in Health Administration Services program, where students have the opportunity to study the structure and operation of the U.S. healthcare system and advance their understanding of the ethical and legal principles that apply to the administration of healthcare services. In addition to increasing their understanding of medical terminology and building more sophisticated business-communication skills, students in this degree program may study more about reimbursement strategies, issues surrounding access to health care, pertinent software applications, and fundamentals of management.
Bachelor of Science in Healthcare Management
In our Bachelor of Science in Healthcare Management program, students who wish to pursue careers in the healthcare field have an opportunity to study relevant topics in finance, human resource management, and community relations. Core courses cover topics such as managing the health of populations, healthcare economics, statistics and research, fiscal management, and global health systems, while elective courses differ depending upon whether the student chooses to concentrate in health informatics or pursue the general track. The concentration in health informatics is available as an online undergraduate program only, while the general track may be pursued online or at our Colorado Springs campus.
Information Technology
Information Technology
CTU's Bachelor of Science in Information Technology program covers key topics in IT—from programming, to systems administration, to databases, and beyond—providing an opportunity for students to develop a strong technical background and critical "soft skills" that are relevant to various careers within the information technology and high-tech fields. This online undergraduate degree program may also be taken as a hybrid or on-campus program depending upon the concentration chosen. Our concentrations in software systems engineering is offered only online, while concentrations in network management and security as well as the general track and are also conveniently available in hybrid and traditional attendance options.
Nursing
Bachelor of Science in Nursing
Our accredited online Bachelor of Science in Nursing program has been designed by nurses, for nurses and may be completed in as little as nine months. Registered Nurses (RNs) enrolled in this online undergraduate program have an opportunity to learn how to become leaders in the nursing field and manage change in an ever-developing, dynamic healthcare environment. In addition to the general education and core requirements, students can choose from among 10 elective courses, such as Challenges and Trends in Contemporary Nursing, Innovation in Nursing, Safety and Quality Improvement in Nursing Practice, and more.
Project Management
Bachelor of Science in Project Management
If you're looking to earn an online undergraduate degree in an accredited program that can help you explore how to manage and execute projects across a number of industries, then CTU's Bachelor of Science in Project Management may be the right path forward for you. This fully online undergraduate degree program utilizes a practical approach centered on key knowledge areas as defined by the industry standard for project management—the Project Management Institute's (PMI) PMBOK® Guide. Students have the opportunity to develop a deeper understanding of how leadership influences project outcomes and stakeholder engagement, with courses covering topics such as the tools, principles, and techniques of continuous process improvement, contracts and procurement, project scope analysis, and human resources.
Security Studies
Bachelor of Science in Criminal Justice
There is more to the field of criminal justice than investigating and solving crimes. The field encompasses a number of different career paths, which is why students who pursue a Bachelor of Science in Criminal Justice at CTU are able to choose from our concentrations offered online—human services, and a general track. For those able to attend one of our Colorado campuses, we also offer a concentration in forensic investigation.
Online Undergraduate Degree Programs—Admissions
No SAT other standardized test is a prerequisite for acceptance into Colorado Technical University's online undergraduate programs. Prospective students must, however, participate in an admissions interview with a CTU Admissions Advisor and submit a completed application. Proof of high school graduation or equivalency must be submitted to CTU prior to the first day of the second quarter or term in the student's undergraduate program; after receipt, CTU must review and confirm the documentation for official enrollment. Admission to the online undergraduate program in nursing requires that the applicant possess an unencumbered license to practice as a Registered Nurse (RN) in the United States. Students who have recently graduated from an Associate Degree in Nursing or Diploma Registered Nurse (RN) program and are pending successful completion of the NCLEX exam have the ability to provisionally enroll in CTU's BSN program. See the University Catalog for complete details regarding undergraduate admissions requirements.
Accreditations
Colorado Technical University is institutionally accredited by the Higher Learning Commission (www.hlcommission.org). The BS in Project Management and BSBA with a concentration in Project Management degree programs are accredited by the Global Accreditation Center for Project Management Education Programs (GAC), and our business degree programs are accredited by the Accreditation Council for Business Schools and Programs (ACBSP). The Bachelor of Science and Master of Science in Nursing degree programs at CTU are accredited by the Commission on Collegiate Nursing Education (www.ccneaccreditation.org).
Additionally, Colorado Technical University's online degree programs have been repeatedly ranked among U.S. News and World Report's Best Online Programs* lists, and our online bachelor's programs have been ranked among the Best for Vets list in 2022 by Military Times.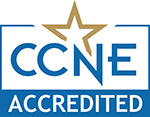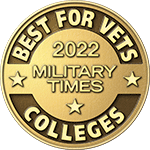 Earn Your Degree at Your Own Pace
Typical online undergraduate program completion is 24 months for an associate degree and 48 months for a bachelor's degree; however, many factors have an impact on program length. Because students must complete at least 25 percent of a given program's credit-hour requirements at CTU in order to graduate, eligible students could be well on their way to completing their degree in a fraction of the time it typically takes. We also offer a generous military education credit program, the option to reduce program cost and completion time by up to 30 percent via CTU Fast Track™,2 and the possibility to earn credits for qualifying life or work experience through the submission of Experiential Learning Portfolios (ELPs).3 And because our online undergraduate courses are structured to work around your busy life, you may be eligible to accelerate your program completion time by taking on more courses per term or by taking fewer breaks between courses. And although standardized tests are not required for admission, scoring well on AP Exams, CLEP tests, and DANTES Subject Standardization Tests could further reduce the number of online undergraduate classes required for your program.
Save on Your Online Degree Program
Saving time by passing CTU Fast Track™ exams,2 creating successful Experiential Learning Portfolios, turning military experience into credits, or transferring-in credits from other accredited undergraduate schools also means saving money.3 And our tuition and graduation date calculator can help you see how taking advantage of these special programs could impact your total tuition and time to program completion, while our net price calculator can give you an estimate of the cost to attend that takes into account possible loan, scholarship, and grant aid.
Why Do Students Choose CTU?
If you're on the fence about pursuing your academic dreams because you feel like you don't have the time, you should know that Colorado Technical University's student body is made up of students who are just like you—people with busy lives, important personal obligations, and financial concerns. Some online undergraduate schools may structure classes around set lecture times, but at CTU we understand that time, or a lack of it, can be a significant barrier to earning your degree, which is why our online undergraduate courses are designed to be taken around your schedule. And when the going gets tough, you have a community of fellow current and former students who can support you, as well as experienced faculty who are able to provide individualized support when requested. We offer career support services to assist you in applying for internships and jobs, and an entire virtual library from which you can research assignments or learn more about topics that interest you. No matter where you are or what you hope to achieve, as a student in one of our online undergraduate degree programs you have access to an unmatched network of support that has been created to help you succeed.
---
1 intellipath® is not available for all courses.
2 The ability to reduce time in school and/or reduce tuition towards the full cost of a degree program depends on the number of CTU Fast Track™ exams successfully passed. Fast Track program credits are non-transferable. Not all programs are eligible for possible 30% reduction in time and money. Courses eligible are subject to change. Students should not rely on potential Fast Track savings or eligibility when making an enrollment decision.
3 Transfer credit is evaluated on an individual basis. Not all credits are eligible to transfer. See the University Catalog for transfer credit policies.
4 CTU cannot guarantee that graduates of this program will be eligible to take third party certification examinations. Certification requirements for taking and passing these exams are controlled by outside entities and are subject to change without notice to CTU.
5 The Bachelor of Science in Nursing degree program at Colorado Technical University is accredited by the Commission on Collegiate Nursing Education (http://www.ccneaccreditation.org).
6 Only applicants who are currently licensed as Registered Nurses (RNs) are eligible to pursue this degree program.
7 Program length assumes a student will be awarded the maximum credit for transfer, licensure, prior experiential learning, and professional certifications, will be continuously enrolled, and will satisfactorily complete all program requirements for graduation. Timing reflects an accelerated pace for the nursing component of the program. Additional courses, such as general education requirements, may be necessary depending upon credits transferred to CTU. Program length may change due to academic failure of courses and or withdrawals and drops. CTU cannot guarantee transfer or other credit will be accepted. Please see University Transfer Credit policy for details.
Program details are provided lower on the page.
Get More Details
Complete the form and:
An admissions advisor will contact you shortly

Get scholarship and financial aid information
Learn about specific degree programs