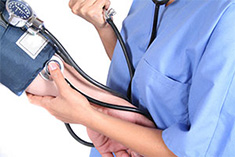 For many people who have been to the doctor's office lately, chances are you may have been treated by a Nurse Practitioner (NP). With people in the United States making more than 916 million visits to NPs annually, Nurse Practitioners are in high demand.1 Plus, the workforce of NPs is expected to grow by roughly 19% by the year 2020.2 For those who already have a background in nursing, it might be worthwhile to explore the option of becoming a nurse practitioner.
What Do Nurse Practitioners Do?
If you are ready to advance your education and nursing responsibility, and are excited to take on a challenge and assume accountability of your own patient population, then becoming a Nurse Practitioner may be right for you.
Nurse Practitioners are a type of Advanced Practice Registered Nurse (APRN) that focus on preventative and long-term healthcare in a variety of settings including primary care, acute care and long-term care.3 The American Association of Nurse Practitioners describes NP's as having an emphasis on "health promotion, disease prevention, and health education and counseling... guid[ing] patients in making positive health and lifestyle choices."4
Nurse Practitioners perform physicals and routine check-ups, order and interpret tests such as lab work and x-rays, diagnose and treat both acute and chronic illnesses, prescribe medicine, and devise patient treatment plans.5 An NP may also consult with other providers or refer patients to a specialist or other healthcare provider as needed.6
Most NPs serve as general practitioners and can be their patients' primary care provider. Many work in physicians' offices with a licensed medical doctor (MD), but they are also able to practice independently in hospitals, clinics, and other healthcare facilities.7
An additional role some NP's choose to take is that of a professor, or becoming an Academic Nurse Practitioner. Highly educated nurses who desire the role of an educator will be needed in the near future as the current nurse educator population age and head into retirement.8
Different Fields of Study
There are many different paths a nursing degree may take you. As an NP there are many options as far as specialty. Do you prefer to work in an ambulatory care or in-patient (hospital) setting? Do you plan to work in a rural area or big city? What is the patient population you desire to care for-pediatric or elderly? Does teaching new nurses in the world of academia excite you? Answering these questions can help you determine which area of study you would like to specialize in.
NP specialties include:9
Acute Care
Adult Health
Family Health
Gerontology Health
Neonatal Health
Oncology
Pediatric/Child Health
Psychiatric/Mental Health
Women's Health Care
Additional sub-specialty areas are also available including, but not limited to:10
Cardiology
Dermatology
Endocrinology
Neurology
Orthopedics
Sports Medicine
Urology
It's a good idea to shadow an NP in your preferred specialty so you can experience a typical routine and witness the care provided within that specified patient population. Many hospitals or nursing programs can help arrange a shadowing experience for you. Check within the hospital's human resource department or with a nursing school administer for guidance in establishing this experience.
Why Become a Nurse Practitioner?
Many nurses choose to advance their education and become an NP for a variety of reasons. The most important thing to remember is that you must choose a career path that is right for you. Because an advanced education often increases marketability, it can result in higher-paying positions.11 However, nurses also pursue an advanced degree for reasons other than salary. For instance, an advanced degree may offer career enhancement and new opportunities in positions requiring advanced knowledge and experience.
Ensuring professional longevity is a common reason as well.12 The employment of an Advanced Practice Registered Nurse is projected to grow "much faster than the average for all occupations".13 This projection is based on "the effects of healthcare legislation, an increased emphasis on preventative care, and demand for healthcare services from the large baby-boom population".14 Personal intellectual fulfillment and a sense of altruism as you have the opportunity to take an active role in assisting others in attaining their optimal wellbeing are yet additional reasons.
How Can CTU Help You Become an NP?
Nurse practitioners must have at least a master's degree in nursing or a related field from an accredited college or university and are typically required to have obtained their registered nurse (RN) credentials before pursuing licensure as an APRN.15 Existing RNs often pursue a RN-to-BSN or RN-to-MSN program to help prepare them for a career as a nurse practitioner.
Licensing Requirements
Typically nurse practitioners must first pass a national certification exam (in addition to having previous RN experience and hold a master's degree) before qualifying to apply for a license in the state in which they wish to practice. Because licenses are different from state-to-state and are based on the specific types of advanced practice nursing licenses offered and recognized in that state, you should look into your state's specific licensure requirements if you plan to pursue a career as a nurse practitioner.
The American Academy of Nurse Practitioners Certification Program and the National Council of State Boards of Nursing both offer information on possible paths to licensure, licensing requirements, and additional material and guides for those looking to become nurse practitioners. By thoroughly researching your educational options and potential career pathway, you can devise the best plan of action to fulfill your ultimate career goals and dreams. If you decide becoming a Nurse Practitioner is right for you, then you too can be part of a rewarding career as you help others promote a healthy lifestyle and treat illness as what the American Association of Nurse Practitioners call a true "Partner in Health".16
Thinking about returning to school? Check out CTU's MSN programs and how CTU can help you expand your nursing knowledge and prepare you for a leadership or educator role in the profession with one of CTU's MSN programs: MSN - Nursing Administration and MSN - Nursing Education.
---
RE1064559