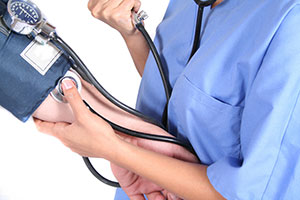 Nurses are always needed, and their career outlook is good: According to the Bureau of Labor Statistics (BLS), Registered Nurses can expect double digit job growth over the next decade.1 But like all careers, simply getting that first job isn't the end of the career path. Instead, nurses have a wealth of career options to consider.

We'll help you navigate the many available nursing career paths while also highlighting the different qualifications necessary for each option.
Nursing Career Options
Career options for nurses are near limitless, from entry-level positions that require minimal qualifications to leadership roles attainable only with experience and an advanced degree. Possible career paths for nurses include:2
Registered Nurse:

Many nurses start their career here, after obtaining their RN licensure. Becoming a Registered Nurse typically requires an associate's-level degree, although job prospects are likely to be enhanced with a Bachelor of Science in Nursing Degree.3


Earn a BSN:

After becoming an RN, many nurses choose to continue on their career path by earning a Bachelor of Science in Nursing Degree. The BLS notes that nurses who earn a BSN have better job prospects than those who do not; many employers also require a BSN from their nurses.

Develop a specialty:

Earning a BSN degree is often a step toward developing a nursing specialty. This is one area where the nursing career path diverges; there are many different areas in which a nurse can specialize. Some examples include Surgical Nurse, Informatics Nurse, Emergency Nurse, and many others.4

Leadership Roles:

Nurses can also advance their career path to include leadership roles like Nursing Director or Nurse Administrator, which include job aspects like managing, coordinating, and training other Registered Nurses. These roles typically require, at minimum, an MSN in Nursing Administration degree and significant field experience.

Education Roles:

For nurses that seek to inspire and promote knowledge, becoming a Nursing Educator is one possible career path. Educators in the nursing field lead the classes that allow others to obtain the skills required to care for patients. To become an educator, nurses need a MSN Nursing Education degree.

Advanced Practice Registered Nurse:

Nurses seeking to go further on the career path can become an Advanced Practice Registered Nurse (APRN). These jobs most often require a Master of Science in Nursing degree and feature a stronger job outlook with higher earning potential, according to the BLS.5


Earn an MSN:

In the vast majority of cases, becoming an APRN requires an MSN degree. This can be obtained through an MSN program with coursework that often focuses on a certain specialty.

Choose an Advanced Practice:

Like with RN specialties, there are many options available for APRNs. Some of the most common include Nurse Anesthetist, Nurse Midwife, and Nurse Practitioner. These roles often require licensure and include increased responsibility and the acquisition of new skills.

Clinical Research:

Nurses may also decide to obtain clinical research positions to aid in the discovery and improvement of patient care modalities. This may involve pursuing a terminal nursing degree, like the Doctor of Nursing Practice (DNP) degree.
Looking to start your own journey on the nursing career path? Consider an accredited BSN program, or MSN program. If you're seeking inspiration in your career path, read about professional networking for nurses.
REQ1064562