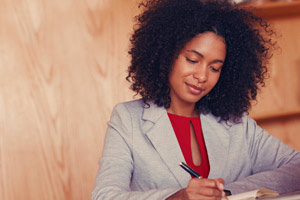 A business degree is one of the most popular choices among college majors. Graduates are highly coveted commodities, as they often possess well-honed skills that can drive businesses forward. The major touts the fact that graduates will learn to hone analytical thinking and problem solving ability, creativity and gain a facility with numbers. And because graduates spend much of their time schmoozing and working intimately with clients, they hone their interpersonal skills – a skill increasingly important for success.

Business degree candidates are well suited to a variety of careers, but those that prove most popular include consulting, finance, accounting and insurance, and many additional choices within those careers. Below, some of the top choices:
Accountants
If you have an affinity for numbers, a career in accounting may be the career for you. Accountants prepare and examine financial records… [and] ensure that financial records are accurate and that taxes are paid properly and on time1, according to the Bureau of Labor Statistics.
Certifications:
There are numerous certifications an accountant may obtain to demonstrate proficiency, but the most common would be the CPA designation, or the Certified Public Accountant. Any company that hires accountants would more than likely expect and/or require a candidate to have obtained the CPA. Some companies will even reimburse employees for exam expenses.

Employment:
The Big Four accounting firms are popular: KPMG, PwC, Deloitte & Touche and Ernst & Young, but many public and private companies, and even nonprofits employ accountants.

Median Salary:
$63,5502
Financial Analyst
These number-savvy people provide advice about investment decisions to individuals and businesses.
Certifications: Finance is one of the most heavily regulated industries, and clients want to know that someone qualified will handle their money. The Chartered Financial Analyst (CFA) is the most common certification as an analyst, and you can obtain it with a bachelor's degree, four years of experience, and the passing of three exams.3

Employment:
Financial institutions like Goldman Sachs hires financial analysts, along with other private and government entities.

Median Salary:
$76,9504
Insurance underwriters
The topic of insurance is often a drab one, but insurance serves a very important role in society. Underwriters use specific algorithms to determine whether insurance is needed and under what circumstances, and also set prices based upon myriad factors.
Certifications:
Certifying bodies abound within the insurance industry. The Institutes and The American College of Financial Services offer designations like the Chartered Property and Casualty Underwriter (CPCU) and Chartered Life Underwriter (CLU).

Employment:
Insurance firms are one of the largest employers of agents and underwriters.

Median Salary:
$62,8705
Financial advisors
Financial education in the U.S. leaves a lot to be desired, so there is a great need for properly trained individuals to disseminate financial knowledge. Advisors dispense advice about investments, insurance, tax, savings and almost anything dealing with finances. They look to grow wealth and minimize debt with every decision they make on behalf of their clients.
Certifications:
The Certified Financial Planner Board of Standards administers the Certified Financial Planner (CFP) designation.

Employment:
Large financial institutions like UBS and Goldman Sachs employ financial advisors, but many advisors work independently, building their own businesses from the ground up.

Median Salary:
$67,5206
Management consultants
This travel-heavy position is for people who are business experts. Consultants know the ins and outs of businesses, including their financial standing, and understand organizational operations. They can save businesses on the brink and further financial loss.
Certifications:
There are no certifications for consulting per se, but you'd need to have a facility with numbers and statistics, and an ability to interpret graphs. You also need to be a strategic thinker.

Employment:
Consultants work for the aforementioned Big Four, but also other consultancies like Boston Consulting, McKinsey and Bain & Co.

Median Salary:
$78,6007
Foreign Service Officer
FSOs represent the U.S. abroad and keep the interests of the United States protected in foreign countries. Officers often meet delegates and dignitaries from neighboring countries to discuss peace treaties and negotiations, so familiarity with business concepts, management, knowledge of statistics and accounting and other skills acquired by business majors help to ensure a long and illustrious career.
Certifications:
The Foreign Service exam is notoriously difficult, and only about 30 percent of candidates pass it. Once through the exam, there is an extensive background test and myriad psych exams to test your fitness of serving overseas. The entire process can take over a year to complete.

Employment:
Officers serve in embassies and consulates all over the world.

Median Salary:
Range varies
Actuary
Another numbers-focused career, an actuary has the distinction of being ranked on many "Best Jobs" lists over the years. Actuaries tout stable employment (demand and job growth) and top compensation as the reasons they're satisfied, along with work-life balance.
Certifications:
A series of exams that take from 6-10 years to complete is necessary to become an actuary, but your career can get started after taking the first two. Exams are administered by the Casualty Actuarial or the Society of Actuaries.

Employment:
Actuaries mostly work for insurance companies, but the government employs them, too.

Median Salary
: $93,6808

Colorado Technical University offers a variety of business degrees, including the new BBA in Digital Marketing. Whatever business degree you choose, CTU should help you with a strong leg up on the competition.