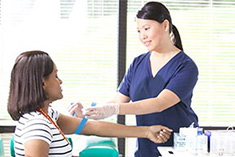 Trying to figure out how to balance your nursing career and school can be intimidating. You already work long hours, and if you have a family to take care of once you're off the clock, going back to school can seem like a daunting task. While any degree program requires hard work and extra hours, the proper time management strategies can help you confidently pursue your education—whether you're looking to get your ADN or are entering an RN to BSN program—alongside an active nursing career.

The following time management tips for nurses and nursing students provide some basic guidelines and proven suggestions for how to keep your work-school-life balance intact.
Make a Schedule for Studying


One of the most valuable nursing school study tips is to set aside the same time periods each week for studying and schoolwork if possible. Maintaining a regular schedule ensures you'll have the time you need to dedicate to your coursework, and it also makes the time commitment each week less intimidating. If you know you have specific times scheduled later in the day or week for school tasks, it can allow you to enjoy time with the family or run some personal errands without the extra stress of homework hanging over your head.

Find a Consistent, Quiet Space to Study


Whether it means setting aside some space in your home office or at the kitchen table or finding a favorite coffee shop or spot at a local library, you need a place where you can reliably work without interruptions or distractions. Your time is already limited, so you want to make sure you're making the most of those hours you set aside to study.

Set Daily and Weekly Goals


Try to identify the major things you want to accomplish each week and organize your schedule around meeting these goals. This should include a mix of personal, professional, and school-related goals to help ensure no one area overwhelms the others, in turn helping you maintain a good work-life balance.
Sometimes it can help to post these goals somewhere in your office or workspace so you have a convenient visual reminder of what you're working so hard toward.

Make a To-Do List for Each Day of the Week


Good to-do lists are about helping you segment and visualize the work ahead of you so you can focus on each task individually. Not only does this make it easier to multi-task and work without distraction, but by prioritizing the most essential tasks first you can be sure you won't accidentally spend valuable time getting bogged down by less important activities.
Items on your to-do list should be specific actions or tasks with clear criteria for completion—you need to be able to cross each one off once you're finished so you can move all your attention to the next item on the list. Ideally, these tasks will all contribute toward achieving at least one of the goals outlined above, but to-do lists can also be great ways to include reminders about things like bills and appointments.

Avoid Taking on Extra Shifts When Possible


While it can be tempting to pick up an occasional extra shift for additional income, try to leave yourself some free time each week to avoid burnout. It will be harder to study and do well in your courses if you're always exhausted from working, and you won't be able to do as well when you're at work if you're constantly worried about school.

Let Your Work Know


Once you make the decision to go back to school, make sure to let your supervisor or manager know. The extra work to get your degree will be much easier with additional support from your boss and coworkers, and your employer may even offer tuition payment programs you don't know about. Additionally, knowing that you'll soon have your degree could also give you an advantage when it comes to promotions and new positions that come up.

Develop a Support System


One of the most important things when learning how to balance your nursing career and school is to have a solid support system. Talk to some friends, family members, and coworkers who you can trust to hold you to the above rules and provide encouragement throughout each semester.
Having a few reliable contacts who can step in and help with errands, childcare, and generally managing other daily tasks when you need will make it much easier to maintain a consistent study schedule. Plus, just knowing you have this kind of support behind you will be a great source of comfort during busy periods that can otherwise lead to increased stress.
Ask a nursing peer or group of colleagues to return to school with you. It is always more fun studying in a group. You will be able to lean on one another for support.
Thinking about returning to school but don't want to start from scratch? View our Transfer-In Credits Guide.