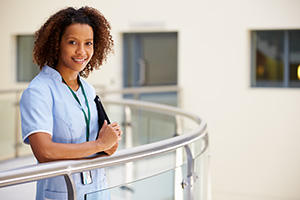 If you're looking into nursing schools, especially those with online BSN programs, you've likely run into a lot of information about various accreditations—but what is accreditation and why is it so important? Essentially, accreditation was established to demonstrate that a college has met certain standards established by the educational community of which it is a part. Accreditation is meant to help people identify schools that will provide and uphold a certain quality of education.
Different Types of Accreditation
Many colleges and universities in the U.S. are accredited by regional or national associations comprised of other educational organizations in the same area—for example, Colorado Technical University is institutionally accredited by The Higher Learning Commission.1 In addition to an entire school getting its accreditation, certain programs can earn specialized accreditation through industry-specific organizations. Nursing school accreditation can be granted by the Commission on Collegiate Nursing Education (CCNE), which evaluates and sets standards for baccalaureate, graduate, doctoral, and residency programs in nursing schools nationwide.
Why is Accreditation Important for a Nursing School?
So what does it mean if a school has CCNE accreditation? In its mission statement, CCNE breaks down the purpose of accreditation into several main goals:2
Maintain accountability: One of the main goals of accreditation is to hold schools to the standards set by the professional and educational nursing and healthcare communities.
Ongoing evaluation: Accreditation is designed to incorporate ongoing assessment and improvement plans, ensuring that programs continue to offer the same standard of professional preparation year to year.
Inform the public: By publicly identifying programs that meet accreditation standards, the goal is to help prospective students make an informed choice about the school in which they ultimately choose to enroll.
Encourage improvement: CCNE strives to encourage internal self-improvement processes within the programs it grants accreditation.
How Do Nursing Schools Get Accredited?
In order to become accredited, a nursing program must meet a set of standards applying to the overall quality of instruction as well as the ultimate effectiveness of the program. Standards are broken into three categories based on program quality: "Mission and Governance," "Institutional Commitment and Resources," and "Curriculum and Teaching/Learning Resources." Programs must also meet CCNE's effectiveness standards for "Assessment and Achievement of Program Outcomes."3 (You can read about each of these standards/requirements in depth in CCNE's Standards for Accreditation Guide.)
In order to assess the extent to which a program meets the above standards, the CCNE follows an evaluation and accreditation process:
A program seeking accreditation completes a self-assessment evaluating how well they believe they meet CCNE's standards.
A CCNE-appointed evaluation team visits the institution seeking accreditation to verify the information detailed in the self-assessment. They then compile an evaluation report addressing how well the program meets accreditation standards and identifying any problem areas.
The program may respond to the findings of the on-site evaluation and may provide additional information supporting their original findings and/or compliance with CCNE accreditation standards.
The Accreditation Review Committee (ARC) reviews the above documents and makes a recommendation regarding accreditation to the CCNE Board.
The CCNE Board issues a decision on whether to grant, deny, or withdraw accreditation from the program.
When choosing a nursing school, be sure to choose an accredited school to ensure you receive the highest quality of education possible. CTU's RN to BSN program is accredited by CCNE. Learn more here.
Thinking about returning to school but don't want to start from scratch? View our Transfer-In Credits Guide.
1. Council for Higher Education Accreditation, Regional Accrediting Organizations 2014-2015, on the internet at http://www.chea.org/Directories/regional.asp (visited on September 5, 2015).
2. American Association of Colleges of Nursing, CCNE Accreditation, on the internet at http://www.aacn.nche.edu/ccne-accreditation (visited on September 5, 2015).
3. Commission on Collegiate Nursing Education, Procedures for Accreditation of Baccalaureate and Graduate Nursing Programs, on the internet at http://www.aacn.nche.edu/ccne-accreditation/Procedures.pdf (15) (visited on September 5, 2015).