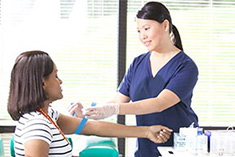 During National Nurses Week, CTU is proud to celebrate our nursing degree program and the amazing faculty who dedicate themselves to delivering the highest level of quality education to their students. The National Nurses Week 2015 theme "Ethical Practice. Quality Care." recognizes the importance of ethics in nursing and acknowledges the strong commitment, compassion and care nurses display in their practice and profession. To gain greater insight into why people enter the nursing field we sat down with CTU's University Dean of Allied Health, Michele Crissman, who shared her insights on nursing – today and in the future. Read on to learn 10 reasons a career in nursing may be for you.
Have you ever thought about working to become a nurse? For those in the nursing field, it can be a highly rewarding career in many ways.
Nursing is a field projected to grow. An aging population and a rise in chronic health conditions have contributed to the increased need for qualified healthcare professionals, including nurses. The Bureau of Labor Statistics (BLS) projects that the nursing profession is will grow 19 percent from 2012 through 2022, which is faster than average across all occupations. In addition, the unemployment rate for nurses is reported to be two percent, compared to the national average of around five and a half to six percent.
Nurses may earn good wages. The mean salary for registered nurses is $68,910 per year, according to BLS. This number can increase depending on where you work, the specialty you choose and your experience level. For instance, a nurse anesthetist may earn a median salary of $96,460 per year.
Nurses are everywhere. You may think that nursing is a profession that is confined to hospitals and healthcare facilities. "Nurses can work in a variety of work environments," says Crissman, "You might work in a private physician's office, in a school or in an insurance company – just to name a few." Crissman also described a newly emerging area of nurse practice called telehealth, which lets nurses facilitate long-distance healthcare delivery between patients and physicians.
You'll always be learning. The day-to-day responsibilities of a nurse are essentially the same, but a nurse's job is far from boring. Each patient interaction is unique and can present symptoms that may require a different approach. "Nurses must make an immediate judgment about what is going on with a patient," Crissman explains, "and then know what to do next." For this reason, nurses who want to stay in the top of their field are always learning and growing as the field evolves.
Nursing may not be a one-size-fits-all career. A nursing career can help you acquire a broad base of experience across a wide-range of specialties. You may start your career in a traditional hospital setting, but you might explore specialties within the hospital, including ambulatory care, cardiac care, neonatal care, obstetrics, pediatrics and many, many more. While jumping from specialty to specialty too often isn't encouraged, nursing can offer you the flexibility to make a change when it makes sense for your career.
Nursing can lead to other things. In addition to the variety of nurse specialties, a nursing career has growth opportunities depending on where you eventually want to be. You might follow a path similar to Crissman, parlaying your hands-on nursing experience to lead nurse and healthcare education programs in a university. A nursing background might also help you move into range of career paths including, .healthcare administration and management, nurse research and medical writing.
Nurses may have flexible schedules. The flexibility of your work schedule is largely dependent on where you work and your specialty. However, many nurses enjoy flexible schedules that enable them to enjoy a balanced work/life that includes families, school and other personal priorities. You can pick up hours as you're able, work a scheduled part-time schedule or work full-time.1

"I enjoyed working nights," Crissman says, "and that worked out nicely as a parent." Crissman recognizes this may not be the case for everyone—you may prefer working during the daytime or have trouble finding childcare for night shifts. "The nice thing about nursing is that you can usually find the flexibility you need," adds Crissman.
Oh the places you can go! As a nurse, you may have the opportunity to travel – within your local area, within a multi-state region or even internationally. "There are lots of opportunities for travel," says Crissman, "you might travel for short stints, extended periods or even provide patient care overseas." She cites the recent Ebola crisis that sent many nurses to international locations to serve the needs of patients in other countries. If you have a travel bug in you, then nursing may be a place where you can enjoy a fulfilling career and earn plenty of flight mileage, depending on your employer.
Nurses are people people. In addition to her education and experience in nursing, Crissman is also a lawyer. From her experience working in the field of law, she realized the work could be solitary. "As a lawyer, time is money and everything is billed in six minute increments," adds Crissman. Like many other nurses, she recognized her preference for working alongside people – offering compassionate, empathetic and encouraging help to patients. If you're a people person and enjoy caring for others, nursing may be a good fit for you too.
Nurses make a difference. "Nursing isn't just about delivering patient care," says Crissman. Nursing students learn what Crissman calls "therapeutic communication," which has elements of psychology and enables nurses to do more than support the improvement of a patient's health, but also enhance their overall well being. That's because nurses aim to go beyond diagnosis to truly understand how patients feel. This approach lends itself to making a difference in the lives of others.
Is Nursing for You? If you think nursing is the career for you, you may want to read How to Become a Nurse to learn more about the nuts and bolts of the career. Then visit the American Association of Colleges of Nursing (AACN) to find accredited programs of study.
If you're already a registered nurse (RN) and want to build upon your existing knowledge and skills, CTU offers a bachelor of science in nursing that can help you prepare for leadership and administrative roles in the nursing field.
1. https://www.bls.gov/ooh/healthcare/registered-nurses.htm visited 11/17/17