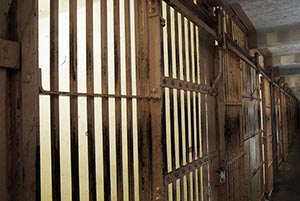 By Rich Holloway, J.D., Program Director of Criminal Justice
You may have heard about the botched execution that occurred recently in Oklahoma. Historically, a number of states have used lethal injection as the default method for executions. The idea being that the right combination of lethal drugs can put a person to death in a "humane" way. A cocktail of drugs would first render the inmate unconscious; then paralyze the inmate's muscles; and lastly, stop the inmate's heart. The inmate would theoretically not feel any pain or significant discomfort prior to death.
Oklahoma has a law that prevents inmates from knowing the ingredients in the cocktail to be used for lethal injection. On April 21, the Oklahoma Supreme Court indefinitely stayed the executions of Clayton Lockett and Charles Warner to deal with the question of the constitutionality of the above-mentioned Oklahoma statute. Oklahoma's governor Mary Fallin, however, stated that the Oklahoma Supreme Court didn't have the authority to issue the stay, changed it to a 7-day stay, and scheduled the executions for April 29, 2014. Clayton Lockett's execution went forward on the 29th, and was the latest "botched execution." It is unclear yet what exactly went wrong. But regardless of whether you believe the State of Oklahoma, or Lockett's public defender, it is clear that the intent was not for Lockett to be conscious and visibly in pain before ultimately dying from a heart attack about 45 minutes into the execution.
For a little more background on what's causing the current problem, we have to go overseas. European companies have traditionally manufactured some of the chemicals used as part of the lethal injection cocktail. Some of those companies, however, decided back in 2011 that they no longer want to be involved with capital punishments, so they made the business decision to no longer produce those chemicals. Since then, the European Commission has placed new regulations on the exportation of the drugs used for capital punishment. As a result, one of those chemicals is no longer available for use by American correctional institutions, causing correctional institutions to try to come up with alternative chemical cocktails to use for lethal injections. Some states have found ways around the embargo by using compounding pharmacies, pharmacies that mix drugs for individual patients at doctor's orders, and often fall outside of traditional regulation. Using compounding pharmacy drugs has proved problematic. On January 9, Oklahoma executed Michael Lee Wilson, and allegedly his final words were, "I feel my whole body burning." On January 16 in Ohio, it took an inmate 25 minutes to die from a lethal injection of an untested cocktail.
Because of the nature of the US legal system (a bi-furcation of federal and state systems), there is an inherent lack of uniformity in most things related to criminal justice. There is the federal system, which should be relatively uniform, and is in many ways. The states, however, all do their own thing – some following the feds, and others implicitly rejecting everything federal. Layering on top of this are differing standards on the local and county level within states, so often the quality of a defendant's treatment by the system depends more on where he or she has done wrong versus what he or she has done wrong.
The Constitution Project's Death Penalty Committee recently released a report titled "Irreversible Error: Recommended Reforms for Preventing and Correcting Errors in the Administration of Capital Punishment". The document is comprehensive and detailed, so I will not try to summarize it here. The report does not focus solely on execution procedures, but instead makes 39 recommendations covering 12 different aspects of the criminal justice process leading up to execution, such as: access to justice, ensuring reliable witness testimony, and the role of prosecutors, just to name a few. The recommendations are sound – all 39 of them, and I urge those interested in this topic to at least read the Black Letter Recommendations beginning on page xlv (page 43 of 217 of the electronic version).
In reviewing the 39 Black Letter Recommendations, I thought, however, that there needed to be a 40th recommendation: these recommendations need to be part of federal legislation mandating uniformity across the nation on all of these recommendations. We need a national standard for the administration of capital punishment in the United States. Capital punishment appears to be dying a long slow death in this country. The numbers of executions is decreasing each year, and the number of states abandoning or at least staying capital punishment is increasing. However, there at least need to be uniform standards, processes and procedures in place so that we can get as close to actual "justice" as possible on this issue.
The question of capital punishment is often a very personal question, and many people cling strongly to whatever reasons they may have to want to continue to use this method of punishment which has never been proven to deter crime. Irrespective of individual motivations for keeping the death penalty, those interested in the "justice" should be willing to concede the need for ensuring that our Constitutional guarantees of due process and equal protection under the laws is actually happening in every state that still executes people. Our legal history has shown that while not perfect, our best chance at uniformity and fairness for those who need it most, is by putting in place one system, one set of rules and procedures, and one standard across the nation. Where the defendant commits the crime should not be one of the overriding factors determining who gets subjected to capital punishment, and how it is administered. It's about time we at least did that much as a nation.

Richard Holloway, J.D., Program Director of Criminal Justice at Colorado Technical University, practiced both criminal and civil law in the Chicago area for nearly a decade before he began teaching as an adjunct professor in Business Law and Criminal Justice.