Tony R. Lyons, D.M.
Dean, College of Business & Management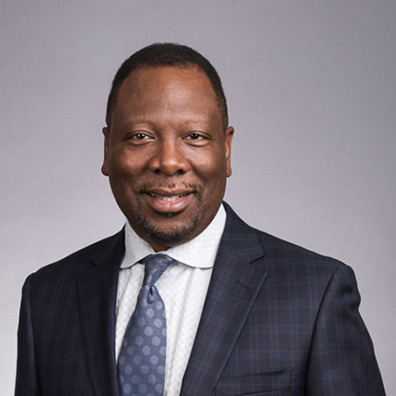 Motivated Mentor and Educator. Business-IT Expert. Loving Father.
Areas of Focus
Business and Management
Healthcare
Project Management
Education
DM, Information Technology, Lawrence Technological University
MBA, Information Systems, University of Wisconsin-Madison
BS, Mathematics, Tennessee State University
Background
Dr. Tony R. Lyons is Dean for Colorado Technical University's College of Business and Management. Dr. Lyons brings more than three decades of business and higher education experience, passion, and innovation to the CTU team.
In his current role as Dean, Dr. Lyons provides overall guidance and leadership for the College of Business. His duties include developing strong curriculum, finding the right faculty to deliver that curriculum to the student body, and supporting CTU's mission as a whole. Prior to taking on his current role, Dr. Lyons served at CTU as Associate Dean for the College of Business & Doctoral Studies and Program Chair for Information Technology & Computer Science. He continues to lead CTU classes on diverse subjects in the areas of management, global leadership, research, writing and more.
Before entering the higher education sphere, Dr. Lyons earned a wealth of experience in the world of business. Holding leadership roles at major corporations such as IBM and Chrysler, Dr. Lyons honed his skills in deploying technology solutions, developing business strategies, recruiting ideal team members, and more.
Later, Dr. Lyons held the role of President & Executive Consultant at P2e Solutions, LLC, where he helped numerous diverse clients establish information technology infrastructure, architecture, sourcing, and more. He started his higher education journey by teaching courses at University of Detroit Mercy while still remaining an active business and IT professional.
Dr. Lyons is a community activist – serving as President of his local neighborhood association. When not at CTU, he enjoys working on his golf game, mentoring his two young-adult children, and taking annual family vacations.
Publications
Lyons, T. R. (2010). The impact of IT outsourcing on surviving employees: Managing survivor syndrome symptoms. Lawrence Technological University, 2010, 180 pages; AAT 3418827 http://proquest.umi.com/pqdlink?did=2142178331&Fmt=7&clientId=79356&RQT=309&VName=PQD
Steenkamp, A. L., Schiller, K., Allour, K., Lyons, T., & Nnolim, A. (2005). Modeling Information and Business Systems Architectures – A Team Project. Information Systems Education Conference (ISECON) 2005. Columbus, Ohio, October 8. http://isedj.org/isecon/2005/3122/index.html
Steenkamp, A. L., Schiller, K., Allour, K., Lyons, T., Nnolim, A., & Kakish, K. (2007). Modeling Information and Business Systems Architectures – A Team Project. Information Systems Education Journal, 5(21). http://isedj.org/5/21/. ISSN: 1544-679X
Steenkamp, A. L., Schiller, K., Allour, K., Lyons, T., & Nnolim, A. (2005). Modeling Information and Business Systems Architectures – A Team Project. Proceedings of the 2005 Information Systems Education Conference (ISECON), v 22. Columbus, OH., USA. http://isedj.org/isecon/2005/3122/index.html. §3122. ISSN: 1542-7382
Professional Memberships
Information Technology Senior Management Forum
Board of Directors, TLab Accelerated Learning Centers
Association of Business Process Professionals
Board of Directors, National Black MBA Association
Research Interests
Business and IT
Information Systems
Sourcing
Awards
Executive Leadership Development, DaimlerChrysler Services Academy
Customer Relationship Management, IBM Executive Development Institute
Career Communications Group Technology Marketing Leadership Award
Automotive Industry Action Group Outstanding Contribution to North American Industry Award
Chairman's Quality Recognition Award – Chrysler Corporation