Susan Malekpour,
Ph.D.
Academic Leadership | Vice Provost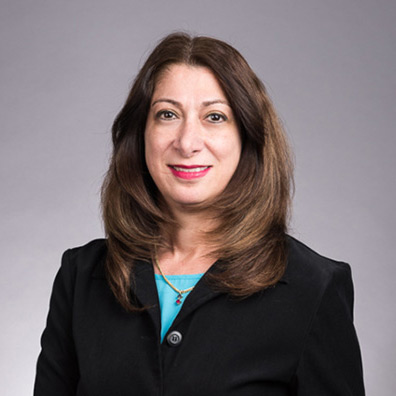 Innovative, dedicated and helpful
Education
Ed.D. Adult Education ; National Louis University, Chicago, Illinois ; 2003
M.S. in Microbiology ; Northern Illinois University, DeKalb, Illinois ; 1997
B.S. in Medical Technology ; Northern Illinois University, DeKalb, Illinois ; 1990
Background
Dr. Susan Malekpour is the Vice Provost at Colorado Tech University. As the Curriculum Vice Provost, she provides vision and direction in curriculum matters related to: academic planning; compliance and curriculum initiatives; program reviews; and program-specific accreditations and certifications. She encourages innovative and high-quality curriculum and learning design, while meeting the curriculum production standards in procedures, and processes. She also leads the institutional effectiveness and assessment initiatives to support the University's mission and commitment to excellence in serving students.
Dr. Malekpour's background includes over 19 years of extensive experience in higher education. She received her Bachelor of Science degree in medical technology and was employed for a few years as a hematologist, medical technologist and director of a clinical laboratory. In conjunction with her work in the clinical setting, she also earned her Master's degree in clinical microbiology and her Doctorate in adult education from National Louis University of Chicago. Her dissertation topic was focused on science pedagogy and constructivism learning theory in general education courses.
Dr. Malekpour's career started as a faculty member in 1998 and moved up to various roles such as Program Director, Program Chair, Dean of Academic Affairs, Senior Director of Institutional Effectiveness, National Dean for the College of Liberal Arts and Sciences and Prior to CTU, as the Vice President of Academic Affairs and Student Affairs at the City Colleges of Chicago.
Currently Dr. Malekpour is a member of several professional organizations, including Association for Institutional Research (AIR) and American Society of Microbiologists. She also holds Medical Technology certification with American Society of Clinical Pathologists.
Philosophy
Dr. Malekpour's educational and leadership philosophy focuses on the holistic perspective of theory, concept and application. As students' gain an understanding of the how and why, their learning process is enhanced and provides the framework to successfully apply new knowledge. By incorporating this philosophy with students' lived experiences, she believes application, real-world connection, social context, acknowledgement of unique learning styles and participation in the development of students' own unique life style skills will enhance the learning process through empowerment. The result of empowering an individual with knowledge is to create an individual who is capable of independent thinking and learning. Students process cognitive information through experience, world knowledge, sharing, expectations, asking questions and peer processing.
Interests | Hobbies
Reading and theater
Recent Presentations
Malekpour, S. and Assaf, S. (2016). The Journey to Creating a Culture of Assessment: The Olive-Harvey College. Present at the Illinois Community College Assessment Fair. Chicago, IL.
Malekpour, S. and Jackson-Rogers, C (2016). Embedded Tutoring: Bridging the gap between support services and instruction. Present at the League for Innovation in the Community College Innovation Conference. Chicago, IL.
Malekpour, S. (2013). General Education Goals and Assessment in a Comprehensive Review Process. Presented at the Association of Institutional Research (AIR) 2013 annual conference. Long Beach, CA.
Professional Memberships
Member, Association for Institutional Research (AIR), 2006-Present
Certified Member, American Society of Clinical Pathologists, 1990-Present
Member, American Society of Microbiologists, 1993-Present